(Articles Main) (Home)
A New NYFM Discovery on National Issues
For collectors of New York Foreign Mail (NYFM) cancellations on the Banknote issues, one of the great thrills is the pursuit of new, previously unidentified and unpublished killers. The thrill is especially great when a new killer is unusual or fancy. (Many new varieties of NYFM grid and wedge killers continue to surface.) USCC member Dan Richards has recently written an articles for the News describing an interesting new type.1 I, too, have previously written on this topic.2,3 This article reports a new and obviously scarce NYFM killer. (The two covers pictured below represent the only reported examples of this new killer and currently reside in the collection of noted NYFM collector and USCC member Nick Kirke.)
Figure 1
Figure 1 shows a 10 cent National issue (Scott #150) tied by a VF strike of an unlisted, fat rounded cross killer on folded letter sheet to Cuba. As with many NYFM killers canceling mail to Mexico and the Caribbean, the killer appears to be duplexed to the NEW YORK postmark. A blue E. Churchill & Co. forwarder's hand stamp verifies a DEC. 21, 1872 usage.
Figure 2
Figure 2 shows an example of the new killer, this time in a simplex format, canceling a 6 cent National stamp (Scott #148) on cover to Germany. The red NEW YORK PAID ALL DIRECT routing postmark at upper right is dated DEC 14 (1872 as confirmed by receiving back stamp), a date consistent with the DEC 21 posting of the Figure 1 cover. This short separation of dates is also consistent with the obvious scarcity of this killer.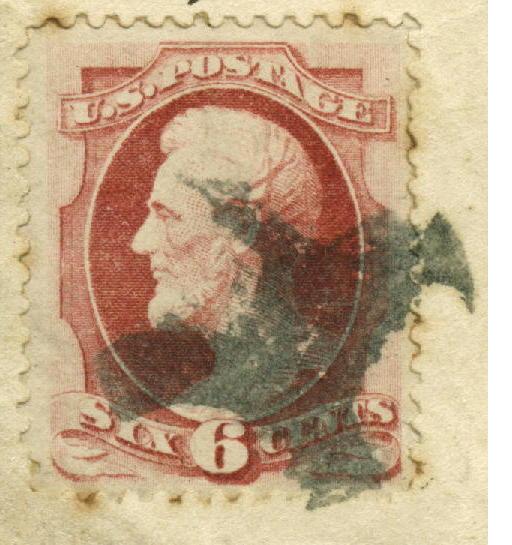 Figure 3 Figure 4
Enlarged images of the killer in Figures 3 and 4 both clearly show elements common to the killer's design. The cross has three interior curves between branches, but the fourth appears to be gouged out, giving the inside of the cross an irregular shape. Three of the cross branches appear to be flared at the end. However, the branch to the left of the gouge appears to lack these flares. The killer's design suggests that it started out as a simple circular cork or wooden dowel. The cross segments probably are the product of removing similar circular cuts from the edge of the original killer. Nick Kirke describes this cancel as a 4 spoke radial with flanges at the top of each radial. His representation below assumes a balanced design of regular curves and flared branches.
Figure 5
Readers are invited to comment and to report additional on or off cover examples of this killer.
1 Richards, Dan, "Newly Discovered New York Foreign Mail (NYFM) Cancel," U.S., Cancellation Club News, Vol. 28, No. 7 (264), August 2007
2 Valenti, John, "New York City Cancellations On Circulars and Printed Matter, 1870-1878, Part III: Newly Recorded NYFM Cancellations on New York Circular Mail to Foreign Destinations," U.S., Cancellation Club News, Vol. 23, No. 1 (216), January 1995
3 Valenti, John, "A New NYFM Cancellation Discovery," U.S., Cancellation Club News, Vol. 23, No. 1 (216), January 1995